EMPATHY FOR THE ENVIRONMENT
BOOST FOR THE BLUE REVOLUTION
COMMITMENT TO CATTLE WELL-BEING
PASSIONATE ABOUT ANIMAL NUTRITION
ADVOCATE OF HEALTHY LIVING
EMPATHY FOR THE ENVIRONMENT
BOOST FOR THE BLUE REVOLUTION
COMMITMENT TO CATTLE WELL-BEING
PASSIONATE ABOUT ANIMAL NUTRITION
ADVOCATE OF HEALTHY LIVING
Welcome to Biofactor, a pioneer in path-breaking biotech solutions designed to benefit farm ecology, farmers and economics in equal measure. Our innovative biotech solutions aid in soil regeneration for sustainable food production while safeguarding the environment. Our long-term goal is to imbibe end-to-end sustainable solutions in the areas such as waste management, livestock farming & environmental conservation.

We are passionate
By 2050, world population will reach 9.7 billion to cater to which, food production must go up by ~70%! Our dream is to innovate and implement sustainable farming practices to meet part of that demand without depleting Earth's natural resources.

We are pragmatic
We are practical about our dreams. Our actions are guided by a consideration of the Triple Bottom Line -People, Plant and Profit. By gradually blending conventional and organic strategies, we are moving toward a more sustainable middle.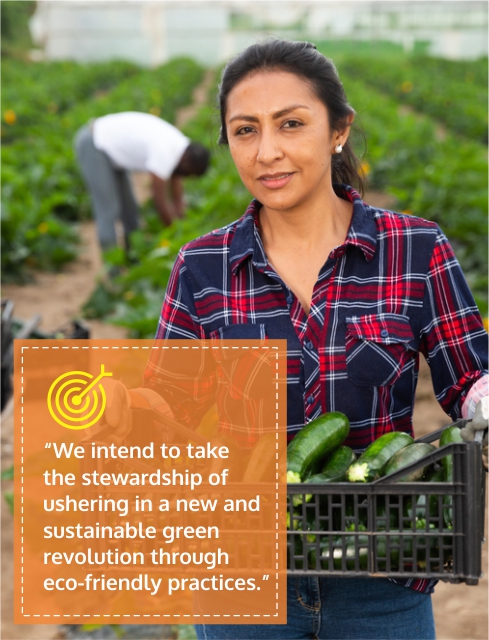 At the heart of good health is good food.
Food that is cultivated with conscious regard to soil health and the environment.
Where the earth is nurtured with love, using safe, natural, and age-old farming practices.
Where the environment is preserved using sustainable food production methods.
Where plants are grown with organic goodness.
Where cattle, poultry, marine life, are reared on pure nutrients.
So that the food that is produced is as wholesome as nature intended.
Biofactor is a pioneer in novel technologies that provide biologically beneficial microbes/enzymes that cater to the needs of the Lifesciences industry.

Agriculture
Biological soil fertility restoration techniques & good agronomic management practices help in revitalizing the declining global food production.

Aquaculture
The future of aquaculture nutrition, disease management, and environmental treatment is biological.

Poultry
Enzymes, probiotics and plant-based compounds - like a Swiss army knife - have multiple modes of positively impactful action.

Livestock
New probiotics developed with cutting-edge genomic and modeling tools aid in healthy growth of livestock.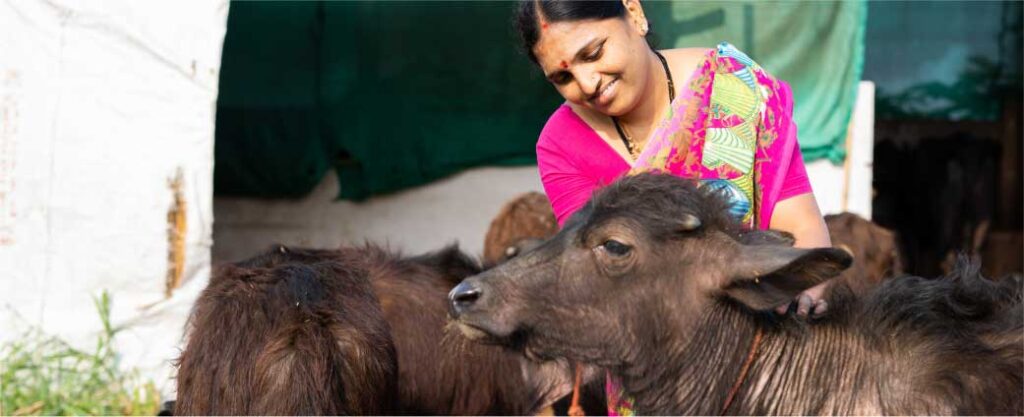 Advances in biological science can transform economies, govern societies and shape our future. We are constantly innovating and adapting new biological applications to respond to global challenges. We are driven by our deep empathy for the farming community which motivates us to develop sustainable solution by leveraging our scientific acumen. Our sense of ownership and responsibility has helped us create a pipeline of products, technologies and services that will make the world a better place.
GOOD FOR THE PLANET, PEOPLE AND ALL LIVING BEINGS
Our products are free of synthetic chemicals or antibiotics making them safe for the soil, the crops they nurture, the people they feed and the livestock they support. As deep as our commitment to the environment is, our intensive R&D program continues to yield breakthrough innovations in organic agriculture, aquaculture, poultry, livestock/cattle, pets and the environment. Our products adhere to strict quality control standards, are approved by the USDA & used by Fortune 500 companies across the globe. Our products are:
We adhere to strict quality control measures
to ensure that our products are always safe for use. We also have a customer satisfaction guarantee so you can be confident in your purchase!
Biofactor offers a wide range of products that can be used in a variety of ways – from organic waste management to animal feed supplements. Our products have been approved by the USDA and are used by many Fortune 500 companies across the world.
We need to strengthen our bond with Mother Earth to help her continue to nourish life with a simple mantra:
Grow more with less, Grow healthy with the best!
We go the extra mile to support the farming community with eco-friendly and sustainable solutions to improve soil health & soil nutritional value, simply because at heart, we are farmers wearing an innovator's hat.
Partners to the farmers. Supporting them with pioneering technologies which will result in an array of beneficial microbes and enzymes that meet the needs of all types of farming – agricultural, poultry, aquaculture, livestock, pets' nutrition and environmental conservation.
We deploy advanced science and technology to provide farmers with products that fetch much superior results than their synthetic counterparts, and play a pivotal role in keeping Mother Earth safe.
An ISO 9001-9002, GMP-certified and
DSIR (Govt. of India) recognised company dedicated to creating an expansive landscape of products and technologies for improving soil health, increasing agricultural yield, enhancing the quality of produce and enriching the farming community.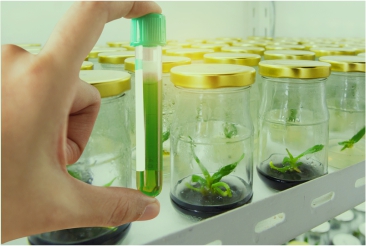 We are committed to our twin-goals of transforming every farmer into a torchbearer of eco-friendly practices and thus heralding a sustainable green revolution; and improving the vitality and productivity of soil by enriching its inherent nutrient content.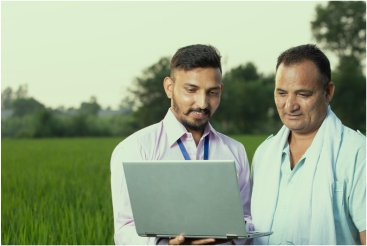 To empower farmers with novel technologies that will help reduce the burden of investment on them and ensure affordable and accessible farming solutions that will help them grow more with less.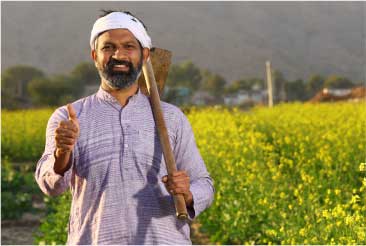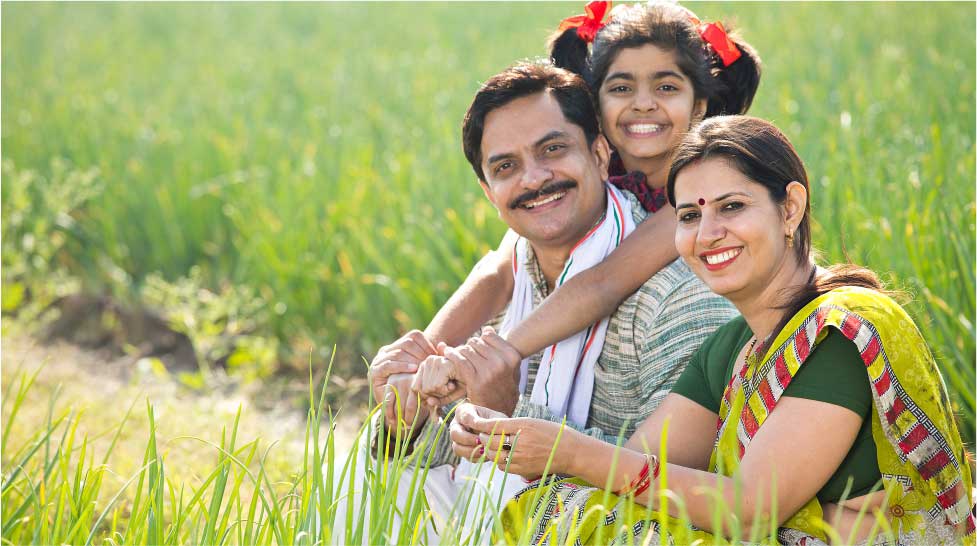 "Biofactor provides the best quality of service. I have been using their products for a couple of months now and the results are amazing. It's safe for humans and animals"
Chanda Kochhar Gupta
Marketing
"Biofactor provides the best quality of service. I have been using their products for a couple of months now and the results are amazing. It's safe for humans and animals"
Chanda Kochhar Gupta
Marketing
"Biofactor provides the best quality of service. I have been using their products for a couple of months now and the results are amazing. It's safe for humans and animals"
Chanda Kochhar Gupta
Marketing